Skip to Content
4 Reasons You Need to Outsource your Bookkeeping
September 15th is around the corner!!
What is the significance of September 15th you might ask. Well, for all the procrastinators out there it's their corporate tax deadline!!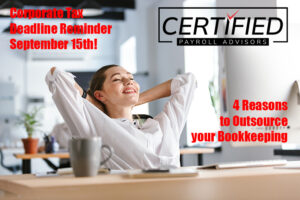 While the normal tax deadline for corporations is March 15th of every year you can ask for a 6 month extension if for whatever reason you were not able to file your taxes prior to March 15th. We understand that as a business owner you have to wear many hats and it can definitely be burdensome to get to your tax return on time, especially if you are also handling the bookkeeping duties for your business.
If the bookkeeping is holding you back, let us help you! At Certified Payroll Advisors we don't just handle payroll. After hearing requests from our clients to handle their bookkeeping we finally listened and it has been a great benefit to all of them!
The best thing about getting started with bookkeeping services through us is once we get started with our monthly service you will also receive monthly reports to better track your business and be more profitable. I addition to being more aware of your financial performance you will also be ready next year for the corporate deadline without an extension!! Here are a few more reasons to outsource your bookkeeping with us.
Improved Decision Making: Accurate financial records provide increased insights into your company's performance and help you make more educated decisions about budgeting, allocating valuable resources and planning for future investment.
Scalability: As your business grows, your financial needs will also evolve. Bookkeeping services can help your business adapt as it grows.
Cost-Effectiveness: Hiring an in-house bookkeeper can be expensive due to salary, benefits and training costs. Outsourcing bookkeeping services will reduce the financial service and will scale up with your growth.
Access to expertise: Having a professional manage your bookkeeping takes the unknown out of managing your finances not only by always having up to date financial records but also by having someone to ask specific questions whenever you need answers.
At Certified Payroll Advisors we are always ready to help you succeed. Just contact us when you need us, we are here to serve you!
Stay informed, sign up for our newsletter!
Contact Us to Learn About our Bookkeeping Services