Skip to Content
The 3 reasons we started Certified Payroll Advisors
The "Big-Payroll" and "Local Payroll" worlds had huge gaps in service
There are two worlds of payroll, the "Big-Payroll" world where you will find nationwide retail payroll providers and the "Local-Payroll" world where you will find accountants and bookkeepers. Both worlds have pros and cons. Our goal was to remove all of the cons and combine the pros.  The "Big-Payroll" world has always lacked personalized service because of their size as do other large industries. Customer service lines are usually based overseas and no direct lines are ever provided causing frustrating long hold periods. In contrast, the "Local-Payroll" world lacks big box technology and financial backing. Since our founders Melissa McComas and Sergio Nativi came from the big and local worlds respectively, they decided to team up and cure the pain points they heard on a regular basis. Being payroll brokers created the best of both worlds. We became the Local service arm that "Big-Payroll" had lacked and allow for clients to contact us directly at anytime for their payroll needs. At the same time, we made partnerships with companies nationwide retail providers. This allows us to provide the best payroll technology available which is married to the financial trustworthiness of the LARGEST payroll providers.
Small business owners need help and personalized service
With all of the hats a small business owner has to wear, payroll is not one they should be burdened with. Payroll is not rocket science and if everything goes smoothly, not a big deal. The issues arise when something goes wrong, that's when payroll becomes a full blown migraine. With "Big-Payroll" companies most of the time the frustration is getting a consistent answer at all, in the "local-payroll" world the migraine could turn in to a lifelong nightmare if not corrected. With Certified Payroll Advisors neither is an issue. First, we become your representatives with dealing with your platform. We will make all the countless calls needed to get any issues rectified. Second, all issues are backed by the financial standing of the largest payroll companies in the world so should a mistake be made, which is the most important piece in our minds when it comes to a small business owners livelihood.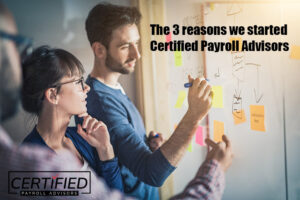 Payroll is tedious and needs full attention
Again, payroll is not rocket science but it does need your full attention at the very least once a pay period. A small business has a few in house options. They can perform payroll duties themselves (taking away time from their day), have someone on staff perform the duties (taking away time from their day) or hiring someone to perform the duties (taking away resources from the company). When a business owner chooses Certified Payroll Advisors, we become their full-time payroll department. With support staff, we are always available to address any and all payroll issues or requests. We work with other professionals like accountants, insurance agents, or financial advisors directly when needed. We stay in our lane; we are payroll experts and the only other service we provide is bookkeeping which works hand in hand with payroll. We do this consciously in order to provide the absolute best service to our payroll clients.
Certified Payroll Advisors; Trusted, Efficient, and Local
Stay informed, sign up for our newsletter!
Contact Us to Learn About our Bookkeeping Services