Skip to Content
5 Ways to Manage Employee Benefits
Managing employee benefits is an essential part of human resource management. As an employer, it is your responsibility to provide your employees with a comprehensive benefits package that will help them stay healthy, motivated, and productive. At Certified Payroll Advisors we assist in serving our clients with Human Resource solutions in addition to our payroll brokerage services. Here are some tips on how to effectively manage employee benefits: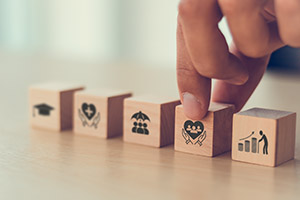 Understand the benefits landscape: Before you can effectively manage employee benefits, it's important to understand the benefits landscape. This includes understanding the various types of benefits available, such as health insurance, retirement plans, paid time off, and other perks.
Evaluate your current benefits package: Take a look at your current benefits package and evaluate its effectiveness in meeting your employees' needs. Consider conducting surveys or focus groups to gather feedback from your employees on what benefits they value the most and what they would like to see added.
Stay up-to-date on regulatory changes: Benefit regulations and requirements can change frequently, so it's important to stay up-to-date on the latest developments. Consider working with an employee benefits consultant to ensure compliance with all applicable laws and regulations.
Communicate benefits clearly: Make sure that your employees understand the full scope of their benefits package. Provide clear and concise information on what benefits are available, how to access them, and any relevant deadlines or requirements.
Encourage participation: Encourage your employees to take advantage of their benefits by promoting them throughout the year. Consider hosting informational sessions, sending out regular reminders, and offering incentives to encourage participation.
By effectively managing employee benefits, you can help ensure that your employees feel valued and supported, which can ultimately lead to increased productivity and retention rates. Let us help you do this, we love to help our clients succeed! Call us, we will do the same for you. 772-208-9655
Stay informed, sign up for our newsletter!
Contact Us to Learn About our Bookkeeping Services