Skip to Content
Executive Orders and Memorandums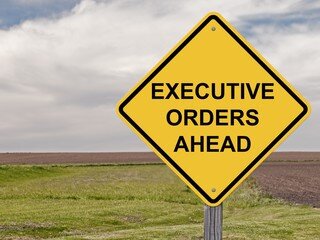 Last week we waited and waited for something to happen with our new stimulus package. Nothing happened. So, what did President Trump do? Enraged everyone by doing SOMETHING. I don't think it was a bad thing, I'm glad he made his move and has forced the rest of them to do the same.
Executive Order – Providing Assistance to Renters and Homeowners
The executive order issued by the white house in short has given the secretary of the treasury the ability to circumvent congress by giving him the power to identify available federal funds to provide temporary financial assistance to renters and homeowners who are going through hardships and are looking at possible evictions or foreclosures. I'm not a fan of executive orders but this doesn't seem like an ill intended one to me and it wouldn't have happened if congress would've done their jobs…
Memorandum – Continued Student Loan Payment Relief
In short, this is allowing the Secretary of Education to take action and extend hardship deferments to borrowers with loans held by the Department of Education until December 31st, 2020. Again, what's the harm in this, with half the country being shut down this will be a huge help to the graphic artist carrying $100k in student debt and is out of a job.
Memorandum – Deferring Payroll Tax Obligations
I'm not sure how this is going to work for our Social Security or Medicare systems, but we're sure going to find out!! After all, we should know if they're solvent right? What I do know is, this will help businesses including the President's friends and his own, by deferring certain payroll taxes and attempting to get those deferred taxes forgiven at a later date. We'll just have to see how the public gets groped on this one…
Memorandum – Authorizing the Other Needs Assistance Program
People are still out of work, they still need unemployment benefits, and even though some are taking advantage of the situation as will always happen, I can't help to think of hungry babies because the extra money from the federal aid has stopped. In this memo, the President calls on states to use amounts allocated to them out of the Corona Relief Funds which was a total of $150 billion appropriated CARES Act. In addition to this, there will be $44 billion from the Disaster Relief Fund made available to supplement the State expenditures.
All of this can't be bad, but it would and could have been way better if congress gets in the game and plays their part.
Stay informed, sign up for our newsletter!
4th Quarter Special – 1 Month FREE!