Skip to Content
Google Analytics, It's Free, DO IT!!
From cleaning services to lawyers, we all use our phones to find the services and products we need. Some of us don't even use the keyboard! We just speak into the phone and BOOM, miraculously, the phone displays what the closest dog groomer to you at the moment of searching. Check out these mobile search stats from Statista.com.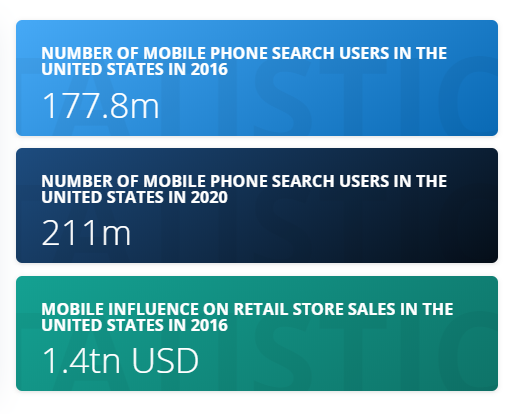 That is $1,400,000,000 influenced by quick searches through phones!! Is your business participating in these searches? Pull your phone out, search your service or product in your area and see if your business comes up in one of the top 3 results. Does it come up at all? If neither of those are true, you need to learn about Google Analytics.
Google Analytics is a free web-based tool offered by Google to help you analyze your web traffic. This allows you to understand how your last email campaign performed, what pages on your website are people more interested in, what is helping you convert searches into $$$$$$!!
Keep in mind, we are not proposing you learn how to program websites or do all of this internally but as business owners, you need to at the VERY least, understand the basics of these amazing tools. Google even provides FREE courses for beginners to understand the inner workings of Google analytics. This will open your eyes to Google Ad Campaigns, YouTube Ad Campaigns, and much more.
Understanding these items will allow you to make sure your business is more visible by people who want your services and products. Some of this cost nothing for you to do (organic searches), and some of it you can dictate what you want to spend (paid ads).
Even so, we highly recommend you check out Google's course for beginners to make sure your business is adapting to the times.
Stay informed, sign up for our newsletter!
Contact Us to Learn About our Bookkeeping Services